Do you have a great business story to tell and want to inspire others with your knowledge?
This call for papers is looking for experts, professionals, entrepreneurs, universities, R&D centers, associations and organisations with the most innovative and disruptive ideas.
Share your powerful ideas, case studies and the most innovative initiatives, solutions or projects within the framework of Digital Transformation.
Submit your application and go on stage along the world's most acknowledged Digital Transformation influencers!
How to apply? Follow our 3 easy steps and start preparing the speech you will give in front of 18,000 tech professionals from all over the world.

STEP 1

Enter your basic contact and company details here, and, most of all, tell us what you want to talk about - include a proposal of a session title and a short brief.

STEP 2

Choose tech solutions you want to speak about (AI, Big Data & Analytics, Blockchain, Cloud, Cybersecurity, Digital Marketing, IoT, Mobile and many more).

STEP 3

Check out our Vertical Forums list and see where your speech would suit best. Consult the terms & conditions in case of any doubt.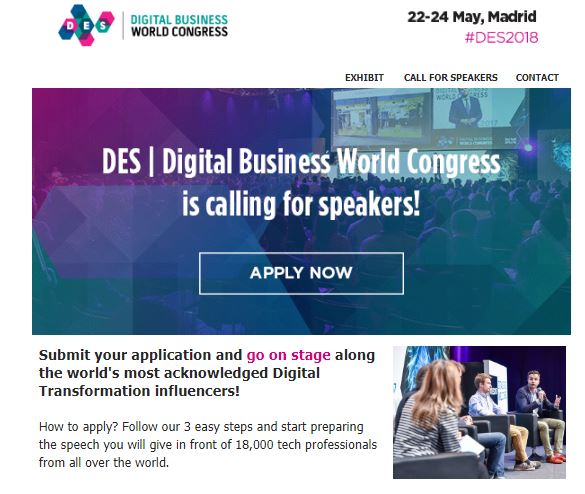 https://www.des-madrid.com/congress/call-for-speakers/
https://www.des-madrid.com/wp-content/uploads/2017/09/DES_CFS_2018.pdf